Meet the Owner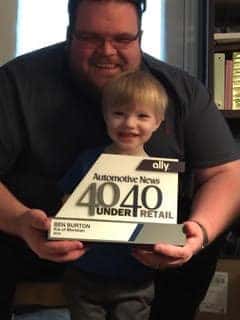 Ben Burton
I am Ben Burton, owner of Jackson Kia in Cocoa. I began my journey in the automotive industry over 20 years ago. My tuba performance and baseball careers came to an unexpected end after a debilitating injury from a car accident. No longer eligible for my scholarships, I turned to selling cars to pay for my college. Just when I thought my dreams were over, the world showed my new passion – changing people's lives and advancing the automotive industry.
It's not my only passion…I also am lucky enough to be a father to four children and husband to an amazing wife. I am a tenacious movie buff and sports fan, too! When I'm not exploring our new wonderful state of Florida with my family, I love to help people who come to my new dealership. It is my mission to help you find that new or used car that you'll love. When you buy a car at Jackson Kia, you'll have a car buying experience that is out of this world.
What do I mean when I say your experience will be "out of this world"? While I can't literally send you to space, I can guarantee that you will be over the moon with every experience you have here – whether that's buying a new Kia or simply stopping by for an oil change. As a recipient of the prestigious 40 under 40 Award, I have utilized my talent and many years of experience to change the way our customers purchase a car. We at Jackson Kia strive to make the process seamless, easy and even enjoyable. If you've ever had a car buying experience that's been less than stellar, then it's time for you to visit us, the best Kia dealership near you. We're located at in Cocoa, but we don't let location limit us on the Space Coast – we serve all of Brevard County and beyond. Come by and say "hi" to me today, I'd love to meet you!